Latest News
Worsham Wins 2015 NHRA Funny Car Championship

POMONA, Calif. (November 15, 2015) - Del Worsham, driver of the DHL Toyota Camry Funny Car, is your 2015 NHRA Mello Yello World Champion and winner of the final race of the year: the Auto Club Finals.
He secured the championship by defeating Jack Beckman in the semi-final round of the Auto Club Finals. In a weekend with record-breaking runs, Worsham came out on top, earning Kalitta Motorsports their first Funny Car championship.
This championship makes Worsham the third driver to win a championship in Top Fuel and Funny Car, while delivering Kalitta Motorsports their first title since the late Scott Kalitta won in back-to-back years in 1994 and 1995 in the Top Fuel class.
This was Toyota's first Funny Car championship since 2008 and only second overall; and with family and friends around, the championship win became very special for Worsham.
"It is an amazing feeling. I have been here before, not that did me any good up there," said Worsham. "It felt like it was 25 years ago, and I was making my first run. The team has been behind me, regardless of the situation. We are racing for Scott, Connie and the entire Kalitta Motorsports family. My teammates, sponsors, DHL, Toyota, Red Line, thank you for your support. Nicky Boninfante, Jon Oberhofer, Dave Boyer and the entire DHL team, the job they have did has been incredible. They have not made a mistake since September."

---
LAS VE

GAS

(November 1, 2015) – Doug Kalitta, driver of the Mac Tools Wrenching For A Cure Top Fuel dragster, picked up his third win on the season at the Toyota Nationals at The Strip at Las Vegas Motor Speedway.

---
Worsham returns to the Winner's Circle in the Lone Star State - Team Kalitta Post-Race Report - Dallas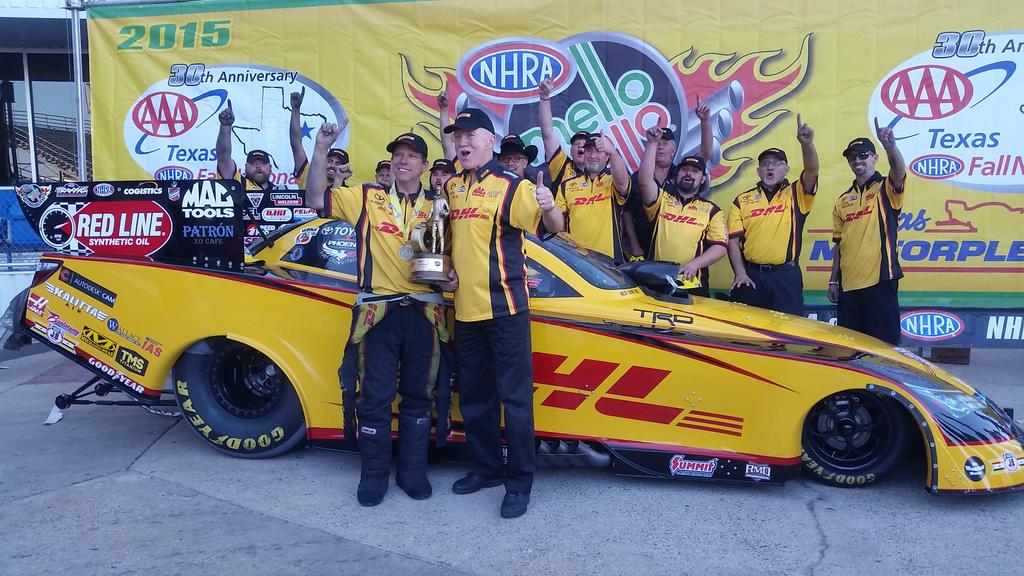 ENNIS, Texas (October 18, 2015) – Del Worsham, driver of the DHL Toyota Camry Funny Car, earned his third win in four races earlier today in Texas claiming a coveted Texas Motorplex Cowboy Hat.
Worsham began the weekend strong throughout qualifying gaining nine bonus points. However, he saved the best for the evening session. Running right beside his closest competitor in the standings, Jack Beckman, Worsham ran a 3.917 second pass, just besting Beckman's 3.919.
That run ending up holding for the top spot in qualifying giving Worsham his first number one qualifier of the season and first since Norwalk last season. Texas native John Hale was his first opponent.
Del Worsham – Driver of the DHL Toyota Camry Funny Car:

No. 1 Qualifier (3.917 sec., 323.58 mph)

E1: Worsham defeated Hale - 3.925 sec., 324.67 mph to 6.812 sec., 95.90 mph
E2: Worsham defeated DeJoria - 3.970 sec., 321.65 mph to 4.737 sec., 169.02 mph
E3: Worsham defeated Capps - 3.975 sec., 320.66 mph to 3.999 sec., 319.29 mph
Final: Worsham defeated Beckman - 4.041 sec., 272.17 mph to 4.077 sec., 286.25 mph
---
Worsham continues to lead Kalitta charge in Countdown - Team Kalitta Pre-Race Report - Maple Grove
MOHNTON, Penn. (Sept. 30, 2015) – Del Worsham, driver of the DHL Toyota Camry Funny Car, has had a start of to the NHRA Mello Yello Countdown to the Championship that all drivers dream about. He takes his streak of eight consecutive round wins into a place where he has never won: Maple Grove Raceway.
Winning the first race of the Countdown in Charlotte, Worsham continued his strong start in St. Louis. The DHL Toyota Camry was solid throughout qualifying. Worsham earned a total of nine bonus points as he was among the top two times in each session.
The best part of the weekend was when Worsham ran 3.899 second pass to reset the national record in Funny Car in the last session. He became one of only four drivers to ever hold the national record in Top Fuel and Funny Car.
The momentum continued on Sunday. Jon Oberhofer, Nicky Boninfante and the DHL team gave Worsham four three second runs and Worsham was consistent on the starting line to pick up his first win in St. Louis since 2009. He became the first driver in NHRA history to run four three-second passes in eliminations and takes his run of seven consecutive three-second passes into Maple Grove. Worsham also became the first driver to give Kalitta Motorsports back-to-back Funny Car wins.
---
DMPE New Product.
Due to Kobelco retiring from supercharger manufacturing, we have decided to make reproduction parts to allow these superchargers to be repaired, and serviced well into the future. Here is the first of the Kobelco aftermarket parts:
Superman 14-71 replacement cases DMPE PN 100-004-99-805.
Improvements to the design are.
*provisions for a top shoe with sealing oring and DMPE bolt pattern.
*injector hat bolt patterns to meet std Enderle, DMPE spread front pattern and Aerodyne spread front pattern.
*rear injection nozzle provisions are also moved to meet design improvement requirements.
*Improved casting material and reduced porosity
---
DMPE M4 8-71 is here by popular demand. Available in both standard and High helix rotor design using the DMPE X3 rotor profile. As with all M4 DMPE superchargers the inlet port has a removable top insert plate for adjusting (tuning) the boost curve to your engine overdrive combination.
---
DMPE Getting Busy with Marine Superchargers
DMPE is also offering service and performance upgrade work on small superchargers from the marine industry. With efficient turn around times and great knowledge of the product we offer another critical service in a world where answer are sometimes hard to come by. Pictured is Todd Jurek's offshore Sonic with twin supercharged 575's.
---
Stealth Insert Plate Unmasked
Completely 3D modeled and machined our new StealthTop Insert Plate for the PSI C or D rotor screw compressor is the next level of developement in screw blower technology. This new piece is compatible with our new MK 11 injector hat, listed below. Both pieces complete the axial (front loading) concept behind screw blowers. For more info and pricing please call DMPE Bryan @ 1-269-428-5070. Note......Insert plate is also available for all standard hat designs. PSI deep throat, PSI Funny Car, and JBR Models.
Rear Geared Nitro Applications for 14-71 and 6-71 M4's